A Pest-Free Life Is on the Horizon
For Expert Extermination Services, Call Horizon Pest Control
We are a family-owned business that has provided New Jersey and New York with top-quality pest control services since 1970. On average, our technicians have 9.4 years of experience in the industry and are all highly trained and state licensed. At Horizon Pest Control, we believe in investing in our team, and we spend an average of $70k a year in professional training and development for our staff. For 50 years, we have been passionate about pest control, and we are excited to use our years of experience to help you keep your home pest-free.
Pest Control in Your Community
Horizon Pest Control is the second-largest family-owned business in New Jersey. We have an expansive service area and the bandwidth to tackle any pest control issue. Our pest control technicians work in both commercial and residential settings, and there isn't a problem they haven't seen and eradicated. At Horizon Pest Control, no job is too big or too small.
Our service areas in New Jersey include the following counties:
The Horizon Pest Control Promise
Looking After Our Customers
Treat Your Home or Business as Our Own
We do this by wearing booties, protective covers and cleaning during and after the job is done.
A Skilled & Experienced Team of Specialists
We invest time, effort and funds into training our technicians which is one of the reasons they have been with us for an average of 9 years.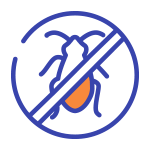 If the Pests Are Back So Are We!
We will work hard to remove all pests but if they come back, we promise to come back and work is free.
Call (201) 365-9886 or Message Us
Horizon is the only company I will use today.
Very knowledgeable and Customer Friendly
Residential & Commercial Pest Control Services
Serving Customers in New Jersey & Beyond