A Pest-Free Life Is on the Horizon
New Jersey Disinfectant Service
Commercial & Residential Disinfection Services
At Horizon Pest Control, your health and safety matter to us. We believe that your home or business should be as clean and healthy as possible, which is why we offer highly effective disinfectant services in New Jersey. Using specially formulated products, we sanitize and disinfect your home, significantly reducing the number of germs, bacteria, and viruses.
If you are looking for professional disinfectant services in New Jersey, then look no further than Horizon Pest Control. Our team of experts uses the latest technology ad equipment to ensure that your homes or businesses are thoroughly disinfected. We're currently offering a 20% discount on our disinfecting services to all businesses who currently have essential employees working onsite. According to the 2013 Essential Services Act passed by Congress, an "essential employee" is an employee that performs work involving the safety of human life and the protection of property.
For more information about which businesses are considered essential, visit 
covid19.nj.gov
 for New Jersey and 
esd.ny.gov
 for New York.
We are a Full-Service Pest Control Company
Horizon Pest Control is the second-largest family-owned pest control company in New Jersey. We have been in business since 1970, and there isn't a pest problem we haven't seen and eradicated. Our pest control programs offer low-impact, environmentally sound treatment protocols. We can provide you with customized indoor and outdoor pest solutions.
Our range of commercial pest control services include:
*Note: It is important to note that this product only kills viruses that are present during the application.
What to Do Before, During & After Treatment
In order for our treatment to be as effective as possible, we need you to follow a few precautions. These precautions keep you, your family, your employees, and your customers safe and ensure that your home or business is clean as can be.
Before the disinfectant treatment
Before your service, we ask that you do a few things to prepare your home or commercial facility for treatment.
These include:
During the disinfectant treatment
During your disinfectant treatment, we ask that you leave your business or home, we also ask that you remove any pets from your home during that time. This ensures your safety. Once we finish our disinfecting services will call to let you know that we have finished and that you are not to enter your home for two hours.
After the disinfectant treatment
Following your appointment, we ask you not to enter your home for at least two hours from the time the service was complete. Upon returning home, it is a good idea to open and doors and windows to encourage airflow. Then, use water to wipe away excess product residue from counters, food prep areas, mirrors, and other hard surfaces.
Make an Appointment Today!
Horizon Pest Control is fully equipped with the products and tools necessary to disinfect your home or business immediately. With our New Jersey disinfectant experts on your side, you can rest easy knowing your indoor space is as clean and healthy as possible. Looking for other commercial or residential services? Contact us to learn more about what we can do to make your home or business a healthier and more comfortable place for you today!
Learn more about how we can take care of your home or business by calling (201) 447-2530.
The Horizon Pest Control Promise
Looking After Our Customers
Treat Your Home or Business as Our Own
We do this by wearing booties, protective covers and cleaning during and after the job is done.
A Skilled & Experienced Team of Specialists
We invest time, effort and funds into training our technicians which is one of the reasons they have been with us for an average of 9 years.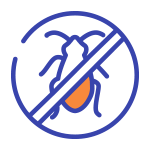 If the Pests Are Back So Are We!
We will work hard to remove all pests but if they come back, we promise to come back and work is free.
Call (201) 447-2530 or Message Us
Horizon is the only company I will use today.
Very knowledgeable and Customer Friendly
Residential & Commercial Pest Control Services
Serving Customers in New Jersey & Beyond